Villa Balbianello – Lake Como villas
Villa Balbianello offers a wide panorama, located on the edge of a wooded peninsula. The position is one of the best over the Lake Como and makes it one of the most spectacular estates in the area.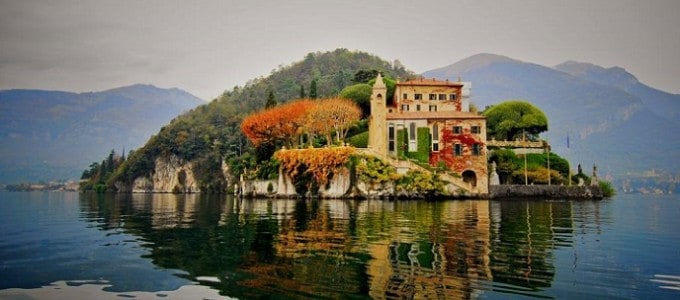 Balbianello History
Cardinal Durini commisioned the construction of the building, he was a scholar and patron of the arts. The cardinal at the end of the 18th century, saw this peaceful corner as the ideal venue for exclusive literary retreats.
Villa del Balbianello was brought back to its original vocation in modern times. When Guido Monzino, entrepreneur, collector and passionate traveler, chose it to preserve the memories of his adventures. Monzino was the first Italian to climb Mount Everest, with impeccable order.
FAI is managing the Villa since 1988, preserving its spirit and taking care of its amazing garden. Trees with unusual shapes, romantic views, avenues lined with statues, panoramic terraces and abundant blooms. This is what surround an ascending path leading to the 18th century Loggia Durini. The Loggia crowns the whole Balbianello complex and offers the visitors two different panoramas of the Lake.
The beauties of Villa del Balbianello is also accessible by water. The location led many Hollywood directors to pick it as the filming area for several movie series, such as Star Wars and 007.
How to visit Villa Balbianello
You can visit Villa Balbianello just with guided tour. This villa is one of the few villas perfectly conserved, with original furnitures.
You can easily reach the Villa getting a ferry to Lenno and then walking along a 25 minutes path to the entrance. Another option is a taxi boat transfer from Lido di Lenno.
Guided tour are not bookable in advance (except for big groups), a villa and garden tour costs 20€ per person.
The tour is around 1 hour for the villa and free time for garden.
Villa Balbianello is open daily (expect Monday and Wednesday) from 10 to 18. Last entrance 16.30.