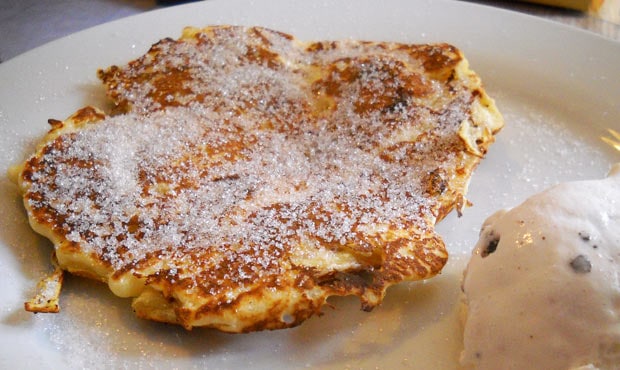 Local food on Lake Como is Paradel!
One of the most typical local food on lake Como is Paradel. It comes from the tradition as its made by poor ingredients.
Especially during the wars, being able to get food on the lake was quite difficult. That's why even just some flowers with water had to be enough.
Very filling, quick to make and eatable for the whole family. The soft dough was ok also for the youngest.
Quite easy to be done, it can be eaten salty or sweet.
The "paradel"can remind you of a pancake: you have to mix flour, water and a bit of salt. Then pour a small quantity in a pan with a bit of fried oil. Then turn it once it become kind of gold.
Paradel can be eaten either like bread with some more salt on top or like a dessert with a lot of crunchy sugar on top.
Unfortunately it's not easy to be found in restaurants or cafes. As local food you can maybe have it during a local festival around Lake Como. Even better if you know a family from the lake, grandmas are the experts here.
For sure they still make in Bellagio during the July festivity taken every year in san Giovanni's hamlet.
The festival is every year in the church square, weekend is changing every year!
Defenetly a must if you want to try real local food and enjoy a local festival!