Comacina Island history
Comacina Island is the only one island on Lake Como. This island has been the main carachter of the local history in Roman and Medieval times. It was a Roman military point, a political centre and one of the most important religious center of diocese.
The magnitude of the Comacina Island  in history is defenetly great. This make us believe that it was the mythical place from which would rise the walls of "Magistri Comacini" (ars muraria). But also the point from which would start the whole process of development of Italian medieval art.
The wonderful story of Comacina Island seems to have stopped abruptly in 1169. This year marked the "annus horribilis" when a tragic fate devastated the island. Barbarossa razed to the ground the whole Como city and its surroundings. The island declined rapidly, finishing during the following centuries in a state of neglect.
Prized for its distinctive nature and splendid view, the Comacina Island regained its honour since 1900. In that year were realized three houses of artists following the rules of a rationalistic style. They were designed to make the island a home of fine art, and thanks to a series of arhaeological excavations.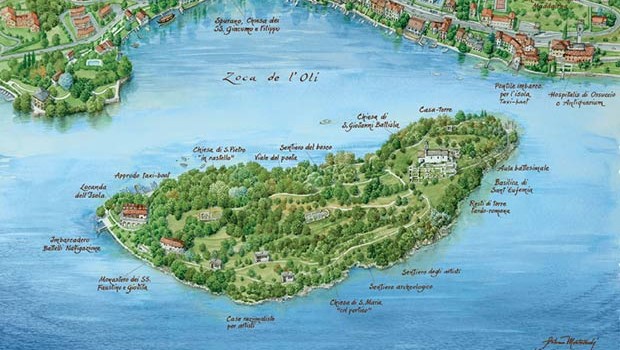 The island today
Nowadays you can reach the island by boat. Just next to the few piers you have a really nice place where to take an aperitivo. Not necessary to say how stunning and unbelievable is the surrounding landscape. You can also have lunch or dinner in the above restaurant. As it is really appreciate, it is always better to book a table in advance. Here you will eat typical food of Lake Como, no menu by card. The owners will bring you all the plates and at the end they will serv you a special coffe. The coffe will be prepared in a scenographic way while telling you the history of the island.
If you want to know more about the Comacina Island you can visit the official website or ask us for booking a boat trip and a table. You will defenetly enjoy this experience!